Staff Picks
Germaine's Luau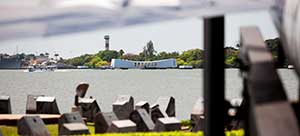 Robert's Hawaii A Day at Pearl Harbor
Irecently had the opportunity to experience all of historic Pearl Harbor in a day. Robert's Hawaii is big in transportation and tours in Hawaii and they did an outstanding job. It's an early pick-up for the all day tour, but it is well worth the early start to get everything in. We were able to visit the USS Arizona Memorial, the USS Battleship Missouri, the Pacific Aviation Museum, and the USS Bowfin Museum and Park. At the end of our day we were treated to a narrated drive through the National Cemetery of the Pacific at Punchbowl.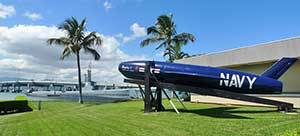 Our guide on the short trip to Pearl Harbor gave us an overview of what we'd see as well as pointing out several sites along the way. The tour was well organized with adequate time to see everything, ask questions, and soak up history. Although it is the number one most visited attraction on Oahu, it's well laid out and so it did not feel as though it was congested.
The 23 minute film was outstanding and, for me, the highlight of the day. It helped me to understand exactly what happened and why on that fateful day. The tour comes with an excellent self-guided audio headset for both the Road to War Museum and the Attack Museum.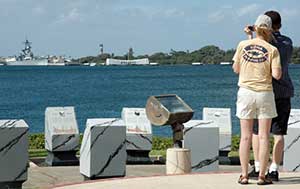 The other highlight was being on the Battleship Missouri and standing where they signed the treaty officially ending WWII.
Our guide was informative and answered every question and gave us so much helpful information. The downtown Honolulu tour and the National Cemetery of the Pacific at Punchbowl were a great way to end the day.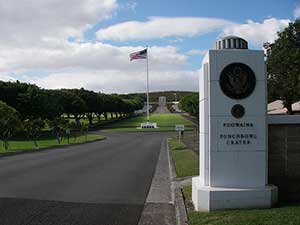 The pick-up was exactly on time and we got back within 10 minutes of the promised drop off. Given the insane Honolulu traffic that was nothing short of miraculous which shows how great our driver was.
I would highly recommend Robert's Hawaii and the Day at Pearl Harbor.
Tips for the tour: Wear comfortable walking shoes because you cover a lot of ground. Due to stringent security requirements bags, purses and strollers are not allowed. Cameras are permitted as are cell phones and water. Storage is available at the entrance to the park for a nominal fee.
Other Picks
Robert's Hawaii A Day at Pearl Harbor | Makani Kai Helicopter | Dolphins and You | Germaine's Luau | Legends in Concert | Rigger Sunset Cruise