Staff Picks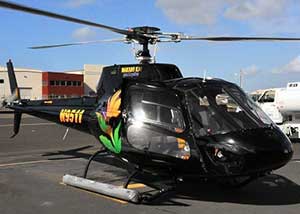 Makani Kai Helicopter
I booked the Sacred Ali'i tour a week in advance and was worried about the weather the day of the flight. The Makani Kai van arrived on time and the driver was pleasant. The van was comfortable with air conditioning and televisions so we could watch the safety video on the way to the airport. There was a family of three also taking the flight. The weather was less than perfect on our short drive and, as I feared, the pilot cancelled the flight. Everyone was so disappointed, but we all agreed to try again the following day, weather permitting, and I am so glad we did.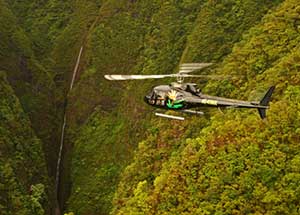 I called the next day and the flight was on! The four of us and one other couple boarded the helicopter and took off for a magnificent 1-hour flight around Oahu. Our pilot was a retired military man and I felt safe and secure. He was very informative, had a sense of humor, and made us all enjoy the flight. This was my first Oahu helicopter trip and it was so smooth despite some less than great weather conditions.
75% of Oahu cannot be seen by land, so it was an amazingly breathtaking experience. The great part of the trip was that, because of the weather, there were waterfalls everywhere! The lush valleys and the ocean waves were stunning. The pilot's commentary helped me learn about how the island was formed, where things were, and
so much more.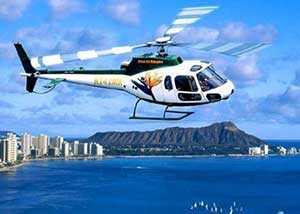 I had just been to Pearl Harbor the previous week and seeing it from the air was amazing. Realizing that we were taking the same path the Japanese took was sobering. I appreciated the opportunity to have a different view of this piece of history.
There were so many picture taking opportunities that you just can't get on land. I wish I had brought a real camera instead of only my cell phone.
I can't say enough about the fabulous staff. Professional, polite, helpful and just awesome are just a few words to describe them.
If you are looking for a unique experience you won't want to miss this tour. It was a perfect way to see one of the most gorgeous places on earth.
Tips to enjoy this tour: Helicopter rides are safe because the staff makes sure to seat everyone according to their weight so that everything will be balanced. This means you might not sit together, but it also means you are secure. Be honest! They will weigh you if in doubt.
Other Picks
Robert's Hawaii A Day at Pearl Harbor | Makani Kai Helicopter | Dolphins and You | Legends in Concert | Majestic Island Tour | Rigger Sunset Cruise