Guest Reviews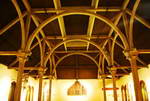 "We arrived in Waikiki as the first leg of our planned extensive travels. If all goes well we could be away from home for over twelve months. Consequently we are traveling on a tight budget and this was reflected in the level of our accommodation. Price was the main criteria when we chose the Holiday Surf Hotel. Although at the lower end of the scale we found our accommodation was more than acceptable.
Carmen and the other staff members were our first contact with a "local" and we found them to be both friendly and obliging and their help and advice in getting about was greatly appreciated.If we return to Waikiki we will certainly give the Holiday Surf another shot." — Russ and Sue, Australia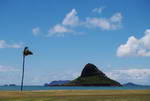 "I Just want to thank you and all the staff for such a great trip! You extended us the "Aloha spirit" from the first night we arrived. Thank you so much.
As for our stay, you and the staff made it great. As you know we had to make some adjustments on top of my "Handicapped" travel issues. For me there was close parking, an elevator and easy entry shower. We had a kitchenette which was great for our food allergies.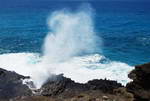 We had the best room with a great view during the day of the canal and the beautiful city lights at night, and we called it our penthouse. Your housekeeping staff is to be commended for good work. Your front desk staff was always helpful with our many needs and the manager was so great our first night when we were so exhausted. With your location so close to the beach and shopping it's a great spot. You really are a hidden gem and I've already told a few friends who will be coming to visit. I told them you'll take good care of them! Mahalo! I'm looking forward to my next visit." — Tanya, USA
---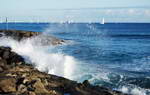 "The hotel was great, loved having the kitchenette to make our own food. We had a corner unit and the breeze through there was phenomenal. Everything was really clean and in good shape. It's older, but everything works. The layout was great. Will recommend this place to friends!" — Cara, USA, Booking.com
---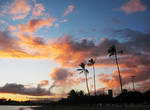 "Our room was fantastic, they ungraded us from a studio to a one bedroom. We had a kitchen which saved us a bunch of money on food. The hotel was close to everything, one block from all the restaurants, bars and shopping areas. About two to three blocks from Waikiki beach! For the price it was amazing! Also, the cleaning Ninjas come in when you are out getting coffee etc. it's nice! You leave your room a mess and you go to get breakfast, come in and it's clean!!" — Lacey, USA Booking.com
---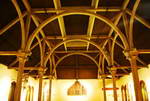 "I could not be happier with my stay at the Holiday Surf Hotel. The staff of the building were warm and kind. They were always happy to help, whether in the afternoon or at midnight. It honestly felt like I was staying at an aunt's house rather than a hotel. I really liked having the kitchen because I like to visit the local farmers markets and experience local food instead of going to the same old Roy's or Charthouse that we have in LA. Overall, I am really, really satisfied with my stay. You will be treated like family from the moment you set foot in the door, to the moment you leave." — Anton, USA, Booking.com
---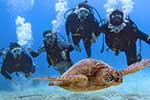 "Loved the hosting team, who guided me and my 15 year old daughter to major tourism sites on Oahu with great promptness, economy and kindness including sights are not usually targeted by traditional travel agencies. Really, it was a wonderful stay of 10 days. I would like to highlight the excellent location of this hotel Surely a hotel that offered us a great value for money." — Edmond, Brazil, Booking.com
---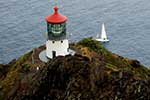 "We loved our room, just what we needed in a hotel. plus, Centrally located- to the beach, shops and bus stops. To those who want to stretch their budgets and want to have a real good time in Waikiki, I can say this is the place to stay. Will we go back to this hotel? Absolutely yes!" — Edita, USA Booking.com
---
"Your staff is AWESOME by the way!" — Yatta
---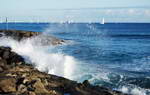 "We loved our stay at your hotel. It was very budget friendly and the location was great. If you are just looking for a safe, clean place to crash this is perfect. We loved the view from our balcony over the canal with the sunrises and the lush mountains. The room we had was clean with a small kitchen and a nice bathroom tiled shower (perfect for washing off all our beach sand.) The staff was so very helpful. They let us store our luggage at the front desk after checkout because our flight didn't leave till 9pm that night. They even gave us two boogie boards for our girls that another guest had left behind to use for the two weeks we were there. My daughters loved the aquatic art work in our room and the giant whale in the front of your hotel. We would definitely stay there again. Thanks for a great affordable place to stay!" — Dawn
---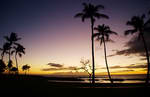 "We loved our ten-day stay at the Holiday Surf Hotel in Waikiki. For the money, there are no other affordable options anywhere in the area that we would have been as comfortable with during our stay on Oahu. The hotel is centrally located to all of the best entertainment, shopping, dining, and tourist sites in the vicinity. I can't say enough good things about the staff either, as they were without exception highly accommodating: professional, courteous and helpful. Anyone vacationing on a tight budget would be hard pressed to find a better place to stay anywhere on the island, much less one so close to all the action!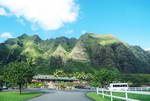 Our room was always clean and fresh. We had enough space to entertain our friends and the kitchenette helped us stretch our money infinitely further than if we ate out at every meal. With a stove, sink, refrigerator/freezer, microwave oven, coffee maker and all of the necessary dishes, silverware, cups, bowls, pots and pans, we were all set to prepare ourselves any meal, at any time. The balcony was a huge bonus, providing us a great view of everything happening in our end of town and a nice place to roost during the recovery periods we needed after having so much fun.
Thank you Holiday Surf Hotel for providing us with an affordable means in which to come and enjoy your wonderful slice of paradise." — Mahalo, Edward
---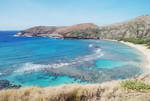 "So enjoyed staying in your hotel. It was affordable for us, which made it possible to go to Hawaii in the first place. The room was nice and the staff was great. It was in walking distance to everything we wanted to see and enjoy. The room was clean and roomy and great for our needs. Would love to live in Hawaii." — Q
---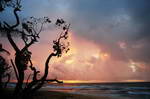 "My mom and I loved staying at the Holiday Surf Hotel. It was a beautiful place! The rooms were clean and offered the small comforts of home. The view of the canal was wonderful and I loved that fact that we were walking distance to the International Marketplace, Waikiki Beach and so many shops and restaurant. But my favorite part of my stay was the staff! Such kind hearted people who make you feel welcome and like family! Greeting us every morning as we left and asking how our day was when we came back! I will definitely recommend the Holiday Surf hotel to everyone!" — JaNae